Phong Nha: Ten years like a dream
2013-09-10 (GMT + 7)
Phong Nha - Ke Bang in Quang Binh province, in central Vietnam, is preparing to celebrate its tenth anniversary of being awarded the UNESCO world natural heritage title.
This heritage began to be popular in 1991 when the British Caving Association came to explore this site. Since then, Quang Binh has been known internationally with extraordinary cave system.
The cave resources are the motivation to promote the image and sustainable development of Quang Binh.
Forests are everywhere in Vietnam and there are caves too. Any place that has limestone mountains, there are caves there. However, caves in Phong Nha - Ke Bang are unfamiliar with the other. They are exceptionally large, with magnificent stalactites, complicated structures, strange and mysterious about the length and the space.
Prof. Nguyen Quang My, President of the Vietnam Cave Association, commented: "Many years of making research on the caves of the karst (limestone) areas around the country, I can say that nature has generously bestowed Phong Nha stunningly beautiful caves. The rows of silver sparkling stone columns, the thrones of diamonds, bright pink clusters of stalactites on the underground river ... In terms of the length, Phong Nha - Ke Bang is not comparable to the Wind Cave (530km) of the US or the Ease Gill Cave of England (520km), but Phong Nha-Ke Bang is the most magic, mysterious and brilliant cave system in the world. People say that it's natural pride of Vietnam. For anyone, the more they discover the caves, the more they feel surprised about them."
Like a dream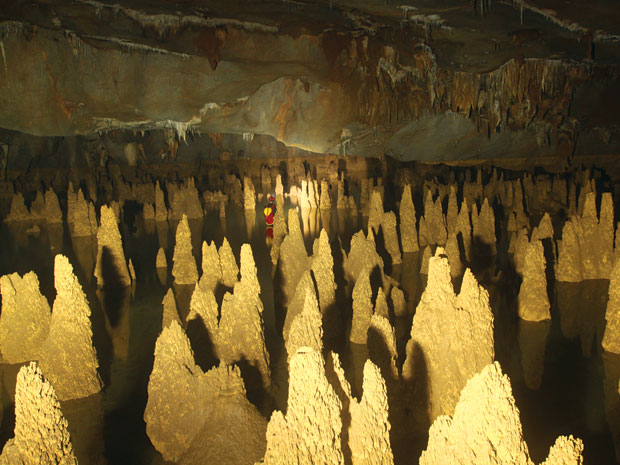 Each exploration, British scientists claimed to detect from 15-40 new caves in Phong Nha-Ke Bang.

There is a 23 year process of searching caves in Ke Bang. Mr. Howard Limbert, a world famous cave explorer from the UK said: "We are looking at this place as a dream. This means that each year of searching, you will have discovered a new cave to declare to the world, offing an additional invaluable cave resource for people to understand more about an angle of the earth's crust in this tropical land."
The records of 23 years of exploration have created a unique heritage for Quang Binh and Vietnam. From the time the Phong Nha Cave was awarded with the UNESCO world natural heritage ten years ago, the world has then been shocked to know that this barren land has a bright space with the oldest underground rock field, the most beautiful underground sand beach, the longest river cave ... But when experts affirmed the Son Doong cave - the largest cave in the world - in the most narrow area of Vietnam, the world has once again known the name of this limestone land.
After 23 years of searching, foreign explorers have recorded 300 big and small caves, mainly by three cave systems including Phong Nha, Vom and Chay cave systems. A total of more than 153km of caves mapped and measured by the satellite navigation system. It's more unique when these systems are almost parallel with the Road 20 – Quyet Thang amid Phong Nha jungle. A system of 16km of 20 on-the –ground caves and a system of underground caves with the main cave of Khe Ry of 18km long. They complement each other in order to escape flooding in the rainy season.
Experts said that this cave system has been intact for millions or even hundreds of millions of years. It is a very ancient system of space which man has discovered in over two decades. It is the resources for Quang Binh to develop tourism.
For people's benefit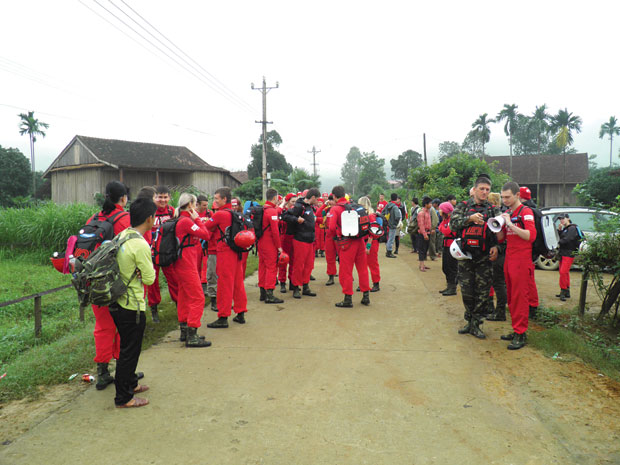 More foreign tourists explore Phong Nha cave each year.
Mrs. Nguyen Thi Vung in Son Trach was very busy serving dozens of tourists in her small restaurant. This shop has been opened for ten years, with four employees and it mainly serves customers to the Phong Nha-Ke Bang Cave.
Ten years ago, Vung's family had to struggle with daily meals. Since Phong Nha-Ke Bang became a world heritage site and a tourist attraction, Vung's family opened this restaurant, which has turned from a thatched house into a big restaurant. Also thanks to the cave, many other families here voluntary changed job from "loggers" to restaurant owners and service providers for tourists, with stable income sources.
Mr. Nguyen Van Hoa, a senior official of Son Trach commune, said Son Trach people greatly benefit from the cave system in Ke Bang, which has become more famous at home and abroad.
Not only people in Son Trach, where the main caves are hosted, those in the neighboring communes of Phuc Trach and Xuan Trach have also earned their livings from offering services for tourists to Phong Nha-Ke Bang. Many young people no longer earn their living from exploiting the forest but by serving tourists.
According to local authorities, Bo Trach district has more than 20,000 local people that directly or indirectly benefit from the cave system, which is very encouraging figure and such a fairy tale. The leaders of Quang Binh see tourism as a driving force for socio-economic development in the province.
Ten years of being a heritage, Phong Nha - Ke Bang has a lot of things to do, but the beauty of this heritage is still the attractive pull of domestic and foreign tourists.
Source: SGTT