Hue festival honours "ao dai" in fashion show
2012-04-10 (GMT + 7)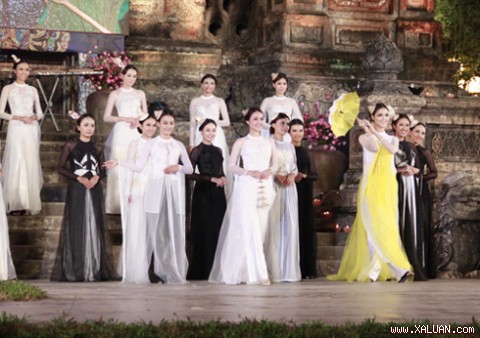 With the theme "Lotus in the fine arts", the show will be a combination of the lotus, which is on way to becoming the national flower, and the "ao dai", underlining their aesthetic value in the souls of Vietnamese people.
With nearly 20 designers from the length and breadth of the country and 150 models, the 90-minute show is expected to attract a large audience.
Explaining why lotus was chosen as the major theme for the show, Minh Hanh, a leading designer, said that the lotus is very familiar to Vietnamese people, especially those who live in Hue .
It is not easy to represent the beauty of the lotus in a long dress as the flower embraces all the spiritual hallmarks and purity of the Vietnamese people. However, using their own creativeness the designers have created numerous romantic images of the lotus on "ao dai", said the designer.
According to Hanh, the traditional and mysterious beauty of the "ao dai" is very easily understood. The national traditional long dress had previously been showcased at seven Hue festivals.
Vietnamese designers are also making an effort to promote the image of the "ao dai" overseas as many foreigners have shown an interest in the dress.
Vietnam 's traditional long dress is beautiful in the eyes of foreigners because of its gracefulness and contours, said the French based General Director of the Big C Group.
The "ao dai" show will take place on the bank of the Huong (Perfume) river, where a huge conical hat made of leaves is also on display. Both are expected to become high points of the Hue Festival.
(Source: VNA)