Hue to build on Tourism Foundations
2011-06-02 (GMT + 7)
Thua Thien Hue will host the National Tourism Year 2012 following recent prime ministerial approval. This will be a chance for Thua Thien Hue to promote its potential, economic achievements, culture and tourist attractions to domestic and foreign investors and tourists.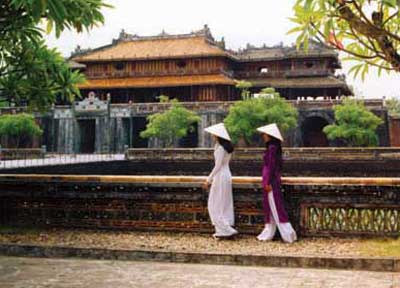 Reporter Phuong Hong of the Vietnam Economic News talked with Nguyen Van Cao, chairman of the Thua Thien Hue People's Committee on this issue.
Tourism development is considered an important factor for Thua Thien Hue's socio-economic development. What achievements has Hue travel sector brought and how is the city's sustainable tourism strategy likely to develop in the future?
For years, Thua Thien Hue's tourism strategy has obtained many encouraging achievements. The number of domestic and foreign tourists has increased year-on-year. Specifically, the province received 360,000 tourists in 1998 while in 2010, the figure had increased to 1.49 million tourists. The average tourism growth rate recorded is some 12-13 percent a year. Of this, domestic and foreign arrivals increased by 13.48 percent and 11 percent respectively. Tourism revenue grows at an annual rate of 22 percent which accounts 35 percent of the province's Gross Domestic Product (exclusive of indirect tourism revenue). In 1998, the tourism sector had 2,115 workers. The current figure has increased to 8,100 direct workers and 180,000 indirect workers. Some forty investment projects have been invested in tourism sector with total registered capital of VND25 trillion. The tourism sector has changed remarkably, thanks to state and private investment in infrastructure, technical facilities, tourist sites and strong development of tourism businesses. As the tourism sector has increased in the province's structure, it is now considered a key economic sector in the province's policies.
However, the growth in the tourism sector has not met provincial development expectations if compared to its potentials and tourism advantages. Meanwhile, social awareness on tourism development is different and can be summarized by weak infrastructure, poor and simple products, low quality, efficiency and a lack of competitiveness.
To resolve these weaknesses, sustainability is considered a key point in the province's tourism development strategy until 2020. Tourism products will focus on high quality, renowned brand names so as to effectively exploit the province's advantages and resources. The tourism sector targets to firstly ensure economic development on a sustainable basis or in the other words, the stable development and growth of businesses and tourism sector to actively contribute to the socioeconomic development of the province and community; secondly, ensure sustainable natural resources and environment which means the proper use of natural resources and environment protection; thirdly, sustainable society and culture which means that tourism development should actively contribute to society development and equitable development.
What is the theme of the National Tourism Year 2012? What plan does Thua Thien Hue have to promote the image of an economic, cultural, scientific and technological, tourism center as part of moves to become a centrally-governed city?
The National Tourism Year 2012 is Hue-old capital city- new experiences" will be held during 2012 in parallel with the implementation of socio-economic targets of transforming Hue into a centrally-governed city, a center of central region, and a major cultural and tourism national center.
The National Tourism Year 2012 will affirm advantages of Vietnam travel and Thua Thien Hue's cultural heritage which are considered a unique tourism resource. It is also aimed at promoting cultural heritage, unique natural and cultural heritage originated from the development of former capitals in which Hue is a typical example, to polish the image and status of Vietnam and Thua Thien Hue in foreigners' eye. Thua Thien Hue will focus on developing unique, high quality and competitive tourism products which have a national and international brand name while fostering the connection with other national provinces/cities and neighboring countries.
National Tourism Year 2012 and the Hue Festival 2012 are major national events drawing the attention of foreigners. The events are both an opportunity for Hue to develop its economy, attract investors and challenges for the city regarding transport infrastructure, hotels, tourism services and more. How will the city make the most of these opportunities and deal with the challenges?
Thua Thien Hue is making great efforts to fulfill its target of building Hue into becoming a national and international festival city with Vietnamese features based on ideas that consider culture as the foundation for social development and bring into full play the cultural features of Vietnam and Thua Thien Hue. Leaders of Thua Thien Hue consider the Hue Festival as a focal point of the National Tourism Year 2012.
Thua Thien Hue's tourism sector will concentrate on the three following tasks: firstly, improving and developing tourism products, services and infrastructure; secondly, promoting tourism, developing and promoting Thua Thien Hue's tourism brand, thirdly, issuing tourism policies and developing human resources.
Regarding the first task, the province will strengthen investment in infrastructure and facilities to prioritize key areas to a build several regional and international tourist sites. Priority will also be given to advantageous localities and those who develop the community in parallel with economic restructuring. Meanwhile, the province intends to enhance the efficiency of management and consultation activities to tourism development projects through planning, and management and assessment of tourism projects. In addition, it will strive to finish incomplete projects and consider the development and improvement of significant tourist attractions. Moreover, it will develop an open mechanism to further attract domestic and foreign investors in order to mobilize effectively investment sources.
In short, Thua Thien Hue's tourism development strategy is aimed at raising the quality of tourism services, enhancing cooperation and partnership to improve efficiency and sustainable competitiveness while inheriting and preserving unique cultural features and the environment.
Source: VEN